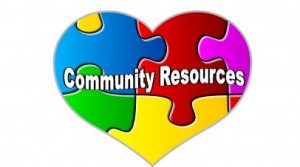 As we deal with this unprecedented crisis in our country it is important to the Menomonie Area Chamber of Commerce to continue our mission of stimulating regional prosperity. 
Gov. Evers Issues Executive Order Declaring Public Health Emergency and Requiring Face Coverings Statewide
MADISON —​ Gov. Tony Evers today declared a Public Health Emergency and issued an Emergency Order requiring individuals to wear face coverings when indoors and not in a private residence, with some exceptions as clarified and defined in the order. The order is effective at 12:01 a.m. on Saturday, August 1, 2020, and will expire on September 28, 2020 or by a subsequent superseding order. Executive Order #82 declaring a public health emergency is available here and Emergency Order #1 requiring face coverings statewide is available here.
Disaster Assistance (CARES Act)
The Small Business Administration provides low-interest disaster loans to help businesses, homeowners and renters recover from declared disasters. You can learn more from the Guide or Apply for Assistance.
Lorraine Garland and Jake Bloom at Arbor Place Inc., presents: Spring Cleaning with Gratitude
Some situations we are faced with are more of a challenge than others.  If you missed the live event, you can watch that here.  Learn how to discover gratitude within each day.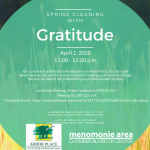 United Way & the Community Foundation Announce Joint Response in Dunn & Pepin Counties
Menomonie, Wisconsin – March 21, 2020 — United Way of Dunn County and the Community Foundation of Dunn County are partnering in response to the impact of Covid-19 on nonprofits and the community we all serve.  Although we may both have Dunn in our names, this includes our southern neighbors of Pepin County.
Daycare Resources
If you are struggling to find daycare because many places are closed or filled up:
Care.com
Sittercity.com
Facebook – look at your local town's page
NextDoor site
Options for tutoring/online school where you can pay for someone to help students at a distance:
Have to request this in profile
www.colleagetutorsandnannies.com
The Dunn County Solid Waste & Recycling Division is
closely monitoring the COVID-19 pandemic. The staff is
receiving guidance from local, state and federal officials
and will post  updates to their site as operations change.
Dunn County website, will help you find information on the programs and services Dunn County provides, the County Board members that represent you, the County Administration and Departments, and general information about the operations of the County.
Free Community COVID Testing at UW-Stout
Monday, Wednesday, Friday | 8:00 a.m. - 5:00 p.m.
Tuesday, Thursday | 8:00 a.m. - 6:00 p.m.
West Gym in the Sports & Fitness Center


August 4th at 4 p.m. we heard from key leaders about what back to school means for everyone. Each leader in education provided an overview of what reopening means for each school and how it affects the community as a whole.
Schedule:
University of Wisconsin - Stout Overview - Chancellor Katherine Frank
Chippewa Valley Technical College Overview - President Bruce Barker
K-12 Overview
Community Leader Remarks - Mayor Randy Knaack, Police Chief Eric Atkinson & More
Q&A
RESOURCES
We have compiled a list of ways our business members are addressing COVID-19 in an effort to continue services at this time.
COVID-19 Business Resource Center
Wisconsin Department of Health Services
Centers for Disease Control (CDC) Latest Updates
Centers for Disease Control (CDC) Interim Guidance for Businesses and Employers 
CDC Infographics for Employers Keeping the Workplace Safe – download graphic here
CDC Infographics for Employers Keeping Commercial Establishments Safe – download graphic here
Wisconsin Department of Health Services (DHS)
National Association of Manufacturers – Coronavirus Resources
U.S. Chamber of Commerce – Coronavirus Resources
National Safety Council – Statement on Coronavirus, or COVID-19
Wisconsin Safety Council – Statement on Coronavirus (COVID-19)
Wisconsin Manufacturers & Commerce 
Cleaning
Cleaning Angels 715-235-7817
Dunn County Solid Waste & Recycling 715-232-4017
Service Master Commercial Cleaning Services 715-505-4499
SERVPRO of Barron, Dunn, & Rusk 715-643-7169
Mortgage Services & Financial Advising
People State Bank 715-643-2811
BMO-Harris Bank 715-235-5521
WESTconsin Credit Union 715-235-3403
Dairy State Bank 715-235-5511
Citizen State Bank 715-235-2265
Royal Credit Union 715-231-2265
Bremer Bank 715-235-2144
Edward Jones 715-233-0009
Principal Financial Group - Scott R. Ebert, RICP 715-715-835-5113 XT 104
Stephanie Stallman - Compeer Financial 715-688-9361
Health Insurance
Midwest Select Insurance Group 715-308-9909
Senior Services
Shirley Doane Senior Center 715-235-0954
Food Pantry
Stepping Stones 715-235-2920
Feed My People  715-835-9415
Churches
Branches Church, 715-231-4245
St. Paul's Lutheran Church and School, 715-235-9622
Cedarbrook Church, 715-231-5433
Menomonie S.D.A. Church, 715-235-3791
Church of Nazarene, 715-232-9338
Peace Lutheran Church, 715-235-2500
Livestream on Facebook & WMEQ AM 880 at 8:30am
Alliance Church of Menomonie, 715-235-4261
River of Life Assembly of God, 715-309-5920
Looking for something not listed here? Click Here to go to our Business Listings.
For any questions or concerns please call 715-235-9087 or email [email protected]