Strengthening Member Business & Stimulating Regional Prosperity
Express Employment Professionals - Previously Held
Mike Kreiling, Jeff Jensen and Marge Kelley from Express Employment Professionals presents Return. Rehire. Re-evaluate. Reorganize. RECOVERY.
Join the Chamber of Commerce as we welcome Mike, Jeff and Marge as the next virtual educator. Watch the replay here.
Financial Planning 101 - Previously Held
Jon Kroening, CFP with Synergy Retirement Planning Strategies, LLC will provide basic financial planning that will benefit you at all points in life.
Join the Chamber of Commerce as we welcome Jon as the next virtual educator. If you missed the live session, you can catch the replay HERE.
Spring Cleaning With Gratitude - Previously Held
Catch the replay of Lorraine Garland and Jake Bloom from Arbor Place, Inc. how you can practice Gratitude in all situations.
Dunn County Reports Potential Exposures to COVID-19
Menomonie Wisconsin, July 9th, 2020 –
The Dunn County Health Department is alerting the public of potential COVID-19 exposure at one event within Dunn County. A person who has tested positive for COVID-19 attended the Knapp Valley Riders 4th of July event while experiencing symptoms. Anyone who was at this event on the given day and times AND are experiencing symptoms of COVID-19 should contact their provider to be tested.
Virtual Eggs & Issues: What's next from Washington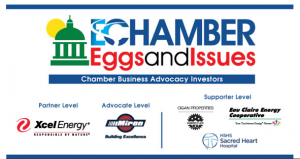 Friday, July 17, 7:30-9:00 a.m.
$25 per attendee
Guests: US Senator Ron Johnson, Congressman Ron Kind, US Chamber of Commerce VP of Congressional affairs Ronald Eidschaug
Join us for this timely discussion of federal policy in the midst of Congress considering its next moves related to COVID-19 relief.
An online virtual event: Thanks to the Perigon system provided by WIN Technology, you'll be able to participate in this event live from your computer.
Registration closes at 12:00 noon on Thursday, July 16. Click here for details and to register.
Thank you to the Eau Claire Chamber for offering this opportunity to our members!
Registered & Youth Apprenticeships
Gwen Skoyen, Director of College & Career Readiness, CESA 10 presents Youth Apprenticeships
Long Vand, Apprenticeship Training Representative, Department of Workforce Development presents Registered Apprenticeships
If your business would like to learn more how Registered and Youth Apprenticeships can benefit your company, watch the replay here.