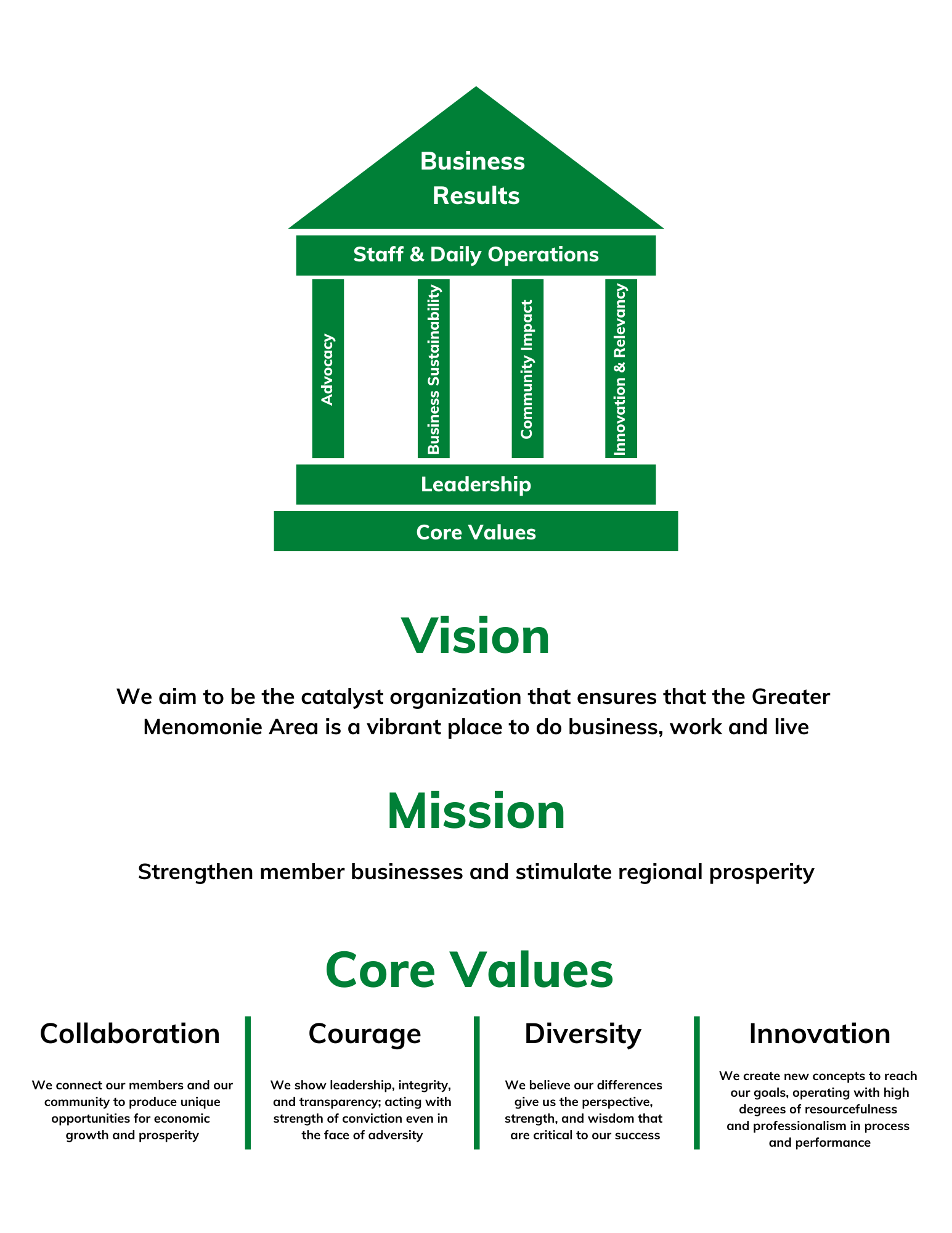 Board of Directors
Meets on the 4th Tuesday of each month
7:30 - 9:00 a.m.
The Board of Directors is responsible for ensuring that the Menomonie Area Chamber & Visitor Center is mission driven, financially responsible, and compliant with laws governing their non-profit status.  Board of Director members are chosen because of their active participation in the Menomonie Area Chamber & Visitor Center, their business experience, involvement in the Menomonie area communities, and/or their commitment to ensure economic competitiveness. If you want to learn more, review the 2024 Board Member Application Overview.
Apply to serve on the Menomonie Area Chamber & Visitor Center's Board of Directors. 
Paper applications may be requested at the Chamber office.
*A submitted application meeting all of the eligibility and qualification criteria does not guarantee board appointment*
August 28 - September 30: Applications Accepted
October 1 - 15: Applications Reviewed by Nominating Committee
Nominating Committee Contacts Applicants
October 23: Board Review & Selection of Applicants
November: Applicants Notified of Selection Decision
December: Board Orientation Meeting
January 2024: Board Term Begins
November: Applicants Notified of Selection Decision
Board of Directors Eligibility & Qualifications
How Do I Apply to Serve as a Board of Director?
Must be employed by (or own) a current Chamber investor business
Willing to take a leadership role in developing the resources of the Chamber through both time and financial support of Chamber programs and initiatives
Ability to work constructively with Chamber staff, committees and other Board members
Experienced background in providing sound judgement in decision making
Courage and willingness to help formulate Chamber opinion on community issues, even though they may be controversial
Mutual respect of peers while displaying leadership and innovation
A service record in the community or within the Chamber through participation in events, programs, committees or other initiatives
Follow the objectives and policies of the Chamber and the Board of Directors
Assume responsibility for making Board-level decisions for the organization
Recognize that authority is limited to one vote per individual and agree to support the decisions made by the collective Board
Attend regular board meetings according to the bylaws and make every effort to attend emergency meetings of the Board and committees
Volunteer for at least one Chamber committee
Build a collegial working relationship with other Board and committee members that contributes to a consensus
Actively participate in membership recruitment for the organization
Encourage the business you are associated with to actively participate in Chamber activities
Board members are appointed to a 1 or 3-year renewable term
Applications may be submitted via USPS mail, email or in person at the Chamber office. Once the application
period has closed, applications will be reviewed for completion and short meetings will be conducted with all
applicants by a member of the nominating committee and the Chamber's CEO. After applicant meetings
have concluded, the nominating committee will discuss applications and provide a selection recommendation
to the Board of Directors for consideration. If no additional information is needed, the Board of Directors will
make applicant selection decisions at the October Board meeting. Applicants will then be notified of
appointment or regret and invited to participate in a Board orientation prior to their term start.