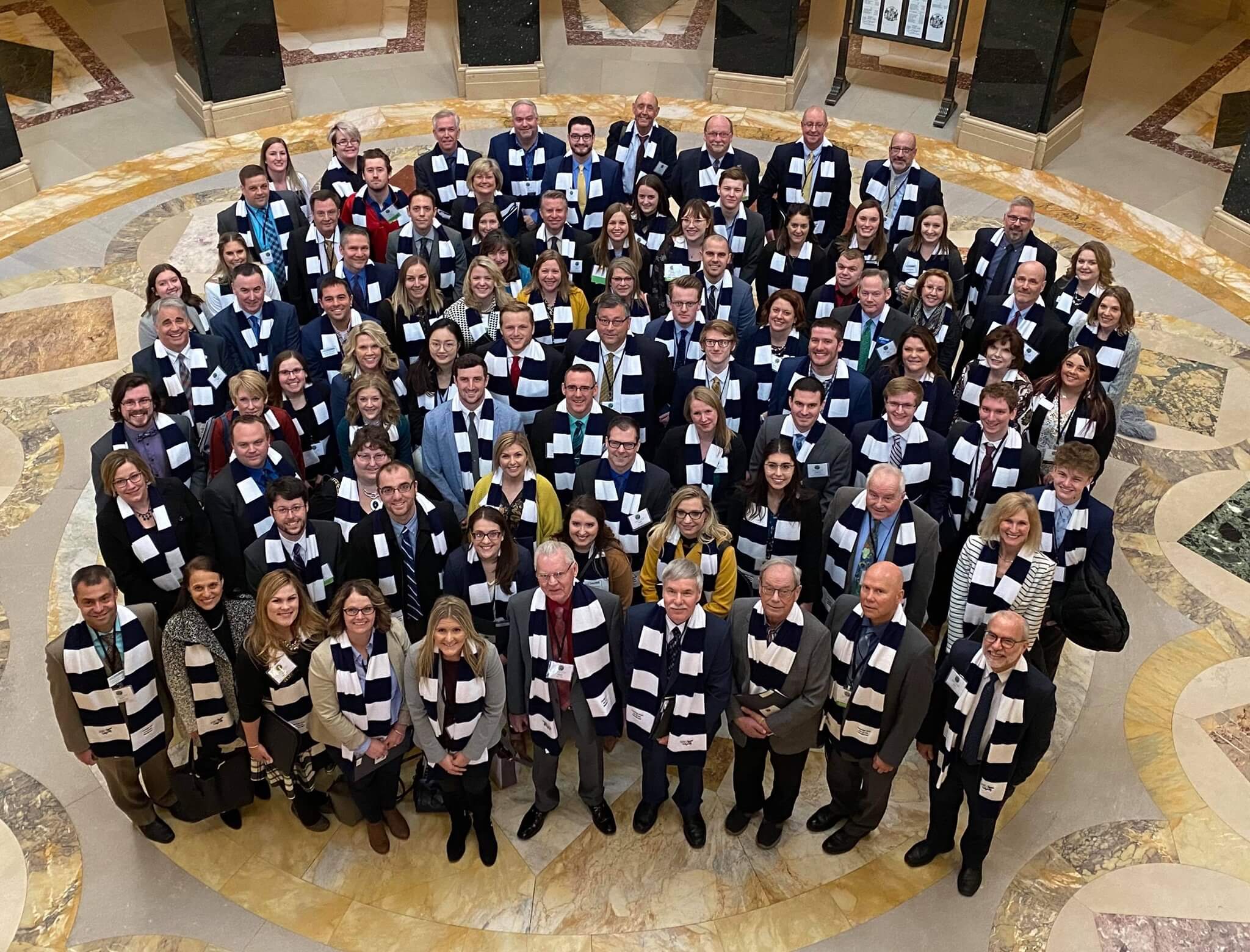 The Menomonie Area Chamber & Visitor Center is your partner to a variety of advocacy platforms such as:
Chippewa Valley Rally legislative visits
Front seat to legislative information and updates
Local business advocacy to voice our investors feedback
Connections and relationship with policy makers
Organizing and facilitating advocacy events
Providing letters of support for specific advocacy issues
Contact the Chamber if you have any questions regarding the Chamber's role in advocacy, Ashley DeMuth.
If you would like to assist the Chamber team with planning and implementing advocacy-specific programs & events, then serving on the Advocacy Committee is for you!
Identify key issues in our community by way of information sharing, data review, and other methods to create education and resource tools for Chamber Investors.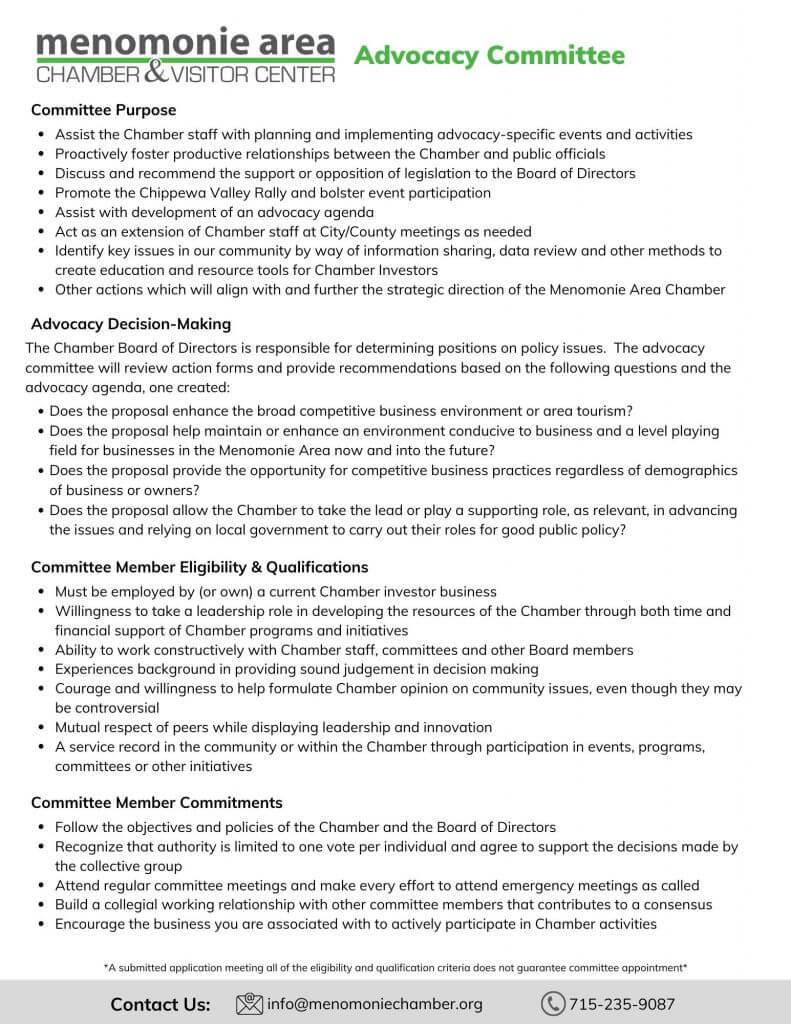 The business Advocacy Committee is a standing committee comprised of Chamber Investors. It shall be charged with the primary responsibility to promote a postive, proactive business environment in the Menomonie area by:
Developing and supporting legislation and other governmental action which promotes a strong business climate and job growth opportunities.
Establishing productive relationships between business interests and public officials.
Providing forums to inform public officials and candidates for public office on issues impacting the business community.
Communicating official Chamber positions to the appropriate public officials prior to their action on the issue.
Endeavoring to hold public officials accountable for their actions and the resulting impacts on the business community.
While the Committee of the Chamber shall be charged with the above-referenced responsibility to promote a positive, proactive business environment, the Chamber is a non-partisan organization and shall neither endorse candidates for public office nor political parties.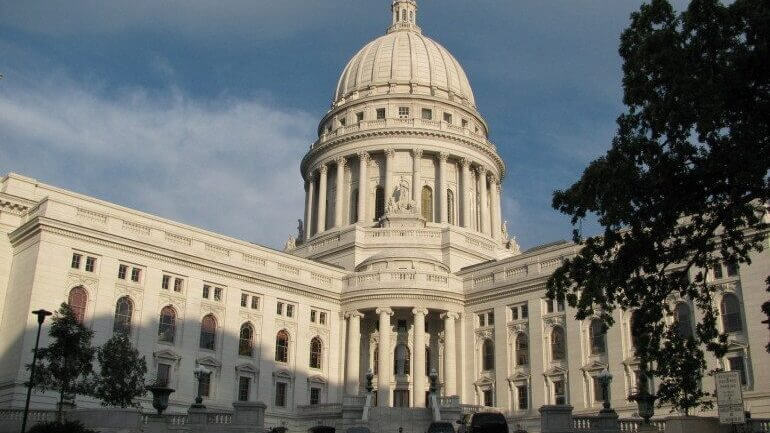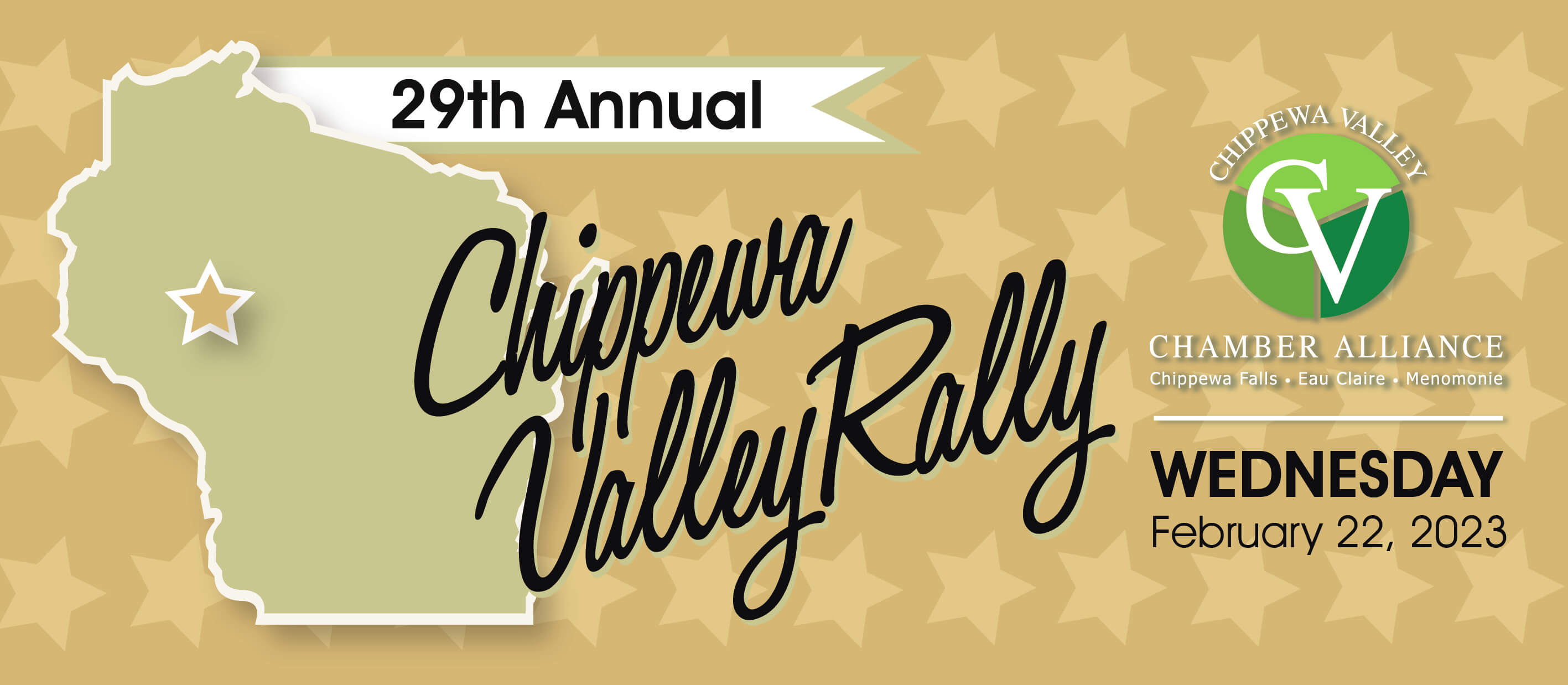 Once you register, we'll be in touch frequently before the event with planning updates and participation details. Reserve your spot today!
| Event Item Name | Expires | Pricing |
| --- | --- | --- |
| 2023 Chippewa Valley Rally Registration | Jan. 31, 2023 | $89.00 |
Wisconsin State Capitol
2 E. Main Street
Madison, WI 53703
Chippewa Valley Rally 
February 22, 2023
Taking the Chippewa Valley's Voice to Madison. 
This annual event is organized by the Chippewa Valley Chamber Alliance, representing the Chippewa Falls, Menomonie and Eau Claire Chambers of Commerce. It's a unique opportunity to bring the collective voice of Chippewa Valley business and community leaders like you to Madison all at one time. With workforce issues at the top of the agenda, we'll be there to emphasize the impact on our region of initiatives being undertaken or considered by state government, including education, infrastructure, housing supply & affordability, and more.
Click here to read more about the 2023 Chippewa Valley Rally Issues.
If you have an advocacy that you would like to share with the Chamber team or have specific questions regarding Chippewa Valley Rally, reach out to Ashley DeMuth at [email protected].
You'll be part of a team of several dozen area business and community leaders traveling to Madison for small group meetings at legislative offices, a luncheon, informal discussions with lawmakers and staff, and networking with others from the area who are interested in state government policy. 
The day's agenda is still being finalized and will be available soon. You'll spend a full day in Madison from late morning through early evening, scheduled to allow you to leave in the morning and be home by late evening. Events will take place at the State Capitol and the Best Western Premier Park Hotel. Registration fees include a keynote luncheon (Governor Evers invited) and a closing reception. There will be online pre-event briefings the week before to acquaint you with the 2023 Rally Issues and the political climate in Madison.
You may travel on your own, or take advantage of optional same-day charter coach transportation which will be available from Eau Claire, boarding 6:00-6:15 a.m. and returning by 9:30 p.m. The cost to ride the bus is $25.
If you wish to combine your trip with other business, we've arranged for discounted rates at the Best Western Premier Park Hotel: $139/night plus tax for a king or 2 queens on the night before and after the Rally. Click here to reserve online, or call (608) 285-8000 and ask for the Chippewa Valley Rally special group rate.
If you have questions, contact Scott Rogers, Vice President Governmental Affairs, at the Eau Claire Area Chamber of Commerce. [email protected]