The Leadership Menomonie program is a dynamic and collaborative leadership development experience that is designed to enable class participants to be catalysts for positive change by providing a deeper understanding of our community through exclusive business tours and practical tools for effective community and professional leadership.
Businesses with employees participating in Leadership Menomonie benefit from participants' newfound knowledge and connections. Emerging leaders will strengthen their leadership toolkit and develop personal skills that will contribute to their role in the workplace. Experienced leaders will also benefit from discovering new opportunities to serve the community and learning firsthand about the vital local issues. All participants will expand their network and build strong connections to the community, making them more committed leaders.
2023 - 2024 Program Sponsors
Scholarship Opportunities
Are you the entrepreneur or employed by a Menomonie Area Chamber & Visitor Center Investor that is interested in Leadership Menomonie? Would a scholarship make this dream a reality?
Available Summer of 2024 for the 2024 - 2025 Leadership Menomonie Class
What is Leadership Menomonie
Leadership Menomonie is an exclusive program of the Menomonie Area Chamber & Visitor Center for Chamber Investor businesses that commences with a retreat in August followed by ten months of leadership programming.  The inclusive leadership training program is transformational for the class attendees as well as the business team they serve. Through exclusive tours and hands-on experiences, participants learn more about local government, education, economic development, agriculture, health, and more!
Leadership Menomonie participants cultivate new relationships throughout the community, explore regional issues, and deepen their leadership skills. At the conclusion of the program, the graduates are poised to have increased impact through their civic engagement.
Class size can accommodate up to 24 participants from an array of industries in the Menomonie area. Promote your business and engage up to three of your team members in Leadership Menomonie!
The Leadership Menomonie Experience
Leadership Menomonie kicks off with a mandatory overnight opening retreat in August. This retreat provides an array of relationship building activities, receive an overview of the guidelines and expectations, learn from Menomonie area non-profit organizations, experience leadership development, collaborate on potential community service projects, and participate in organized free time.
During the program year, the participants will meet on the third Thursday of each month at varying locations in the Menomonie area. During these program days, participants explore various aspects of our community, and are exposed to the challenges and successes that face the Menomonie area. The monthly program days are typically held from approximately 8:00 a.m. - 5:00 p.m. The program concludes with graduation in June.
Team collaboration, planning, implementation, execution, and presentation of a community project that will benefit the Menomonie area is required. Participants will be randomly assigned to work as a team that will be expected to devote time outside and during the regularly scheduled monthly class meetings to complete the project. The project will be presented during the graduation celebration.
Attendance Policy: Regular attendance and punctuality are essential for the smooth operation of this program. A maximum of two classes may be missed. Missing more than two classes will result in immediate termination of the attendee from the class.
Leadership Menomonie Individual Tuition is $1,125, which includes all program fees, leadership retreat, tours, monthly program transportation, program supplies, and meals.
The financial commitment may be paid by the applicant, their employer, or by a combination of both. Tuition must be paid in full prior to Leadership Menomonie retreat in August.
Scholarships may be available. Submit a letter in addition with your application to [email protected]
Please note, transportation to the 2023 - 2024 (August 2023) retreat will be at class participant expense.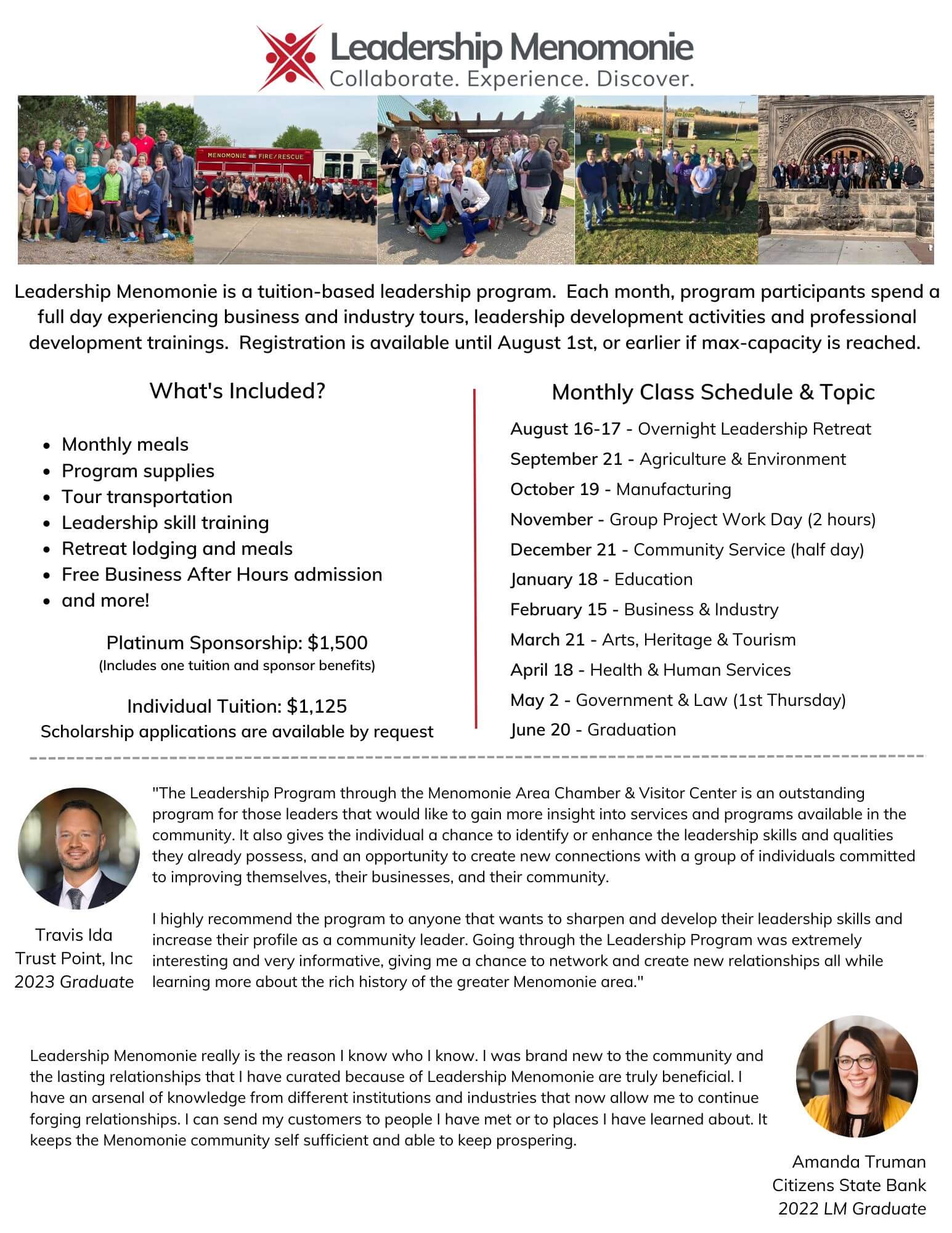 After you register, a program participant information form will be provided.  Registration is first come, first serve as this program has limited space.
Great communities like the Menomonie area need civic leaders who are informed, connected and empowered to make a difference. Learn more how your business or organization can be involved with the Leadership Menomonie program below.
Join the 2023 -2024 Class
To learn more about Leadership Menomonie and determine if the program is right for you, contact the Program Manager at [email protected] via email or 715-235-9087 by phone. Ready to apply?