Chamber Investor businesses, their employees, and the general public are encouraged to attend professional development activities that take place throughout the year both in-person and by virtual means. Topics may include but are not limited to: resources for business funding, employment and workforce strategies, work-life harmony, building business connections, customer service skill building, advocacy efforts and more.
Coffee & Commerce is an opportunity to exchange ideas, successes, and workplace challenges with other area business leaders.  Each Coffee & Commerce features a different focus topic, is held in the morning, and offers a unique platform to enhance your professional partnerships.
Peer Development Opportunities
Peer development is one of the strongest ways to accelerate business and team development. Gain new experiences while collaborating with the diversity in our local community while gaining meaningful connections with others.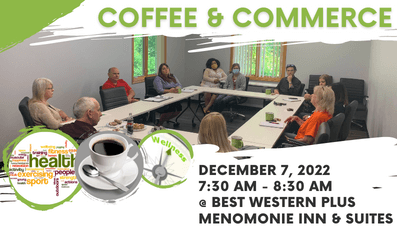 December 7, 2022 |7:30 - 8:30 a.m. | Best Western Plus Menomonie Inn & Suites
Registration is recommended, please do so
HERE
.
This event is a great opportunity to get to know other champions in the community, learn about best practices, and idea share. Nonprofit supporters are welcome to attend as well. Free for membership Investors
$5 for non-membership Investors
2023 Coffee & Commerce Schedule
Coffee & Commerce is held the first Wednesday of each month at a variety of locations.  Stay tuned for more information as it develops!
February 1, 2023
Topic: Social Media Marketing 101
Pre-Registration REQUIRED
$10/Chamber member Investor
$25/Non Chamber member Investor
Topic Expert: Amanda Anderson
Location: Dunn County Community Services Building (room #54) | 3001 US Hwy 12 E | Menomonie, WI 54751
May 3, 2023
Manufacturing Roundtable
Topic: Continuing Education Programs
Registration is RECOMMENDED
EXCLUSIVE Chamber member Investor
FREE EVENT
Co-Sponsor: Chippewa Valley Technical College
Location: CVTC Menomonie
403 Technology Dr E | Menomonie
August 2, 2023
Topic: Cyber Security and ADA Compliance
Pre-Registration REQUIRED
$10/Chamber member Investor
$25/Non Chamber member Investor
Topic Expert: TBD
Location: TBD
November 1, 2023
Topic: State of the City and County
Pre-Registration REQUIRED
$10/Chamber member Investor
$25/Non Chamber member Investor
Topic Expert: TBD
Location: TBD
Contact the Program Manager
715-235-9087
Coffee & Commerce presenters and hosts are open to Chamber member Investors