Expand personal and professional relationships, gain career-enhancing knowledge, and develop your business with others who share common goals.
As a Chamber member investor, all employees of your business or organization can participate in programs and events offered. Chamber member investors are entitled to exclusive and discounted resources that are designed to help grow your business!
"The Chamber provides me an opportunity to step outside my comfort zone to network with Menomonie area peers and to be a topic expert presenter."
-Andrea Jewett
FIRE Fitness Camp Menomonie
Together We Are Stronger!
Investor-driven and supported, the Chamber provides an array of opportunities for its member investors and the community at large to join, connect, and grow.
Investment: Receive recognized value that results in business / organizational growth.
Programs and Events: Engage in offerings that address business needs and interests that aligns with your financial objectives.
Committee Participation: Expand leadership skills by serving on a Chamber committee.

Board of Directors
Advocacy
Ambassadors
Workforce & Education
Young Professionals

Tourism: Increase economic tourism benefits by marketing the Menomonie area, which encourages visitors to make our area their vacation destination.
The Chamber is an Investor-based, volunteer-driven organization that relies on volunteers to provide assistance to help advance the Chamber's mission and vision. Expand your business relations as we work simultaneously to help the community prosper. Contact the Chamber for more information!
Investors have access to a suite of tools to promote their business / organization and its work in the community: an online business directory, enhance your website listing, events calendar, job postings, member to member deals, and press releases.
Contact the Program Manager, [email protected] to receive or reset your Member Information Center (MIC) login to gain access.
Chamber investment provides access to numerous programs and perks, but at its core, you are investing in: the Menomonie area economy, connections and insights, and advocacy on issues.
Chamber investors have access to exclusive Business Services such as:
Address Labels
Celebrations with Ribbon Cuttings
Certificates of Origin
Conference Room Usage
Lending Library
Utilize Ancillary Benefits
Chamber investor businesses are eligible to participate in a new Employee Benefits Program that is unique to the Menomonie Chamber investors! Participate in group insurance for employers with two or more employees. Investor Employee Benefits Program Includes:
Base Life/AD&D
Voluntary Life
Dental
Vision
Short Term Disability
Additional Group Benefits includes: Long-Term Disability, Accident, Critical Illness, and Identity Theft. Email Edna Perkins at [email protected] to learn more.
Your Chamber investment is a lot like a gym membership. The gym offers a number of tools to help you achieve your goals: free-weights, treadmills, stair-steppers. But if you don't use these tools, you won't achieve your fitness goals.
Similarly, the Chamber offers many tools that can help you achieve your business goals. Your online business listing helps you gain exposure by utilizing google search engine optimized keywords.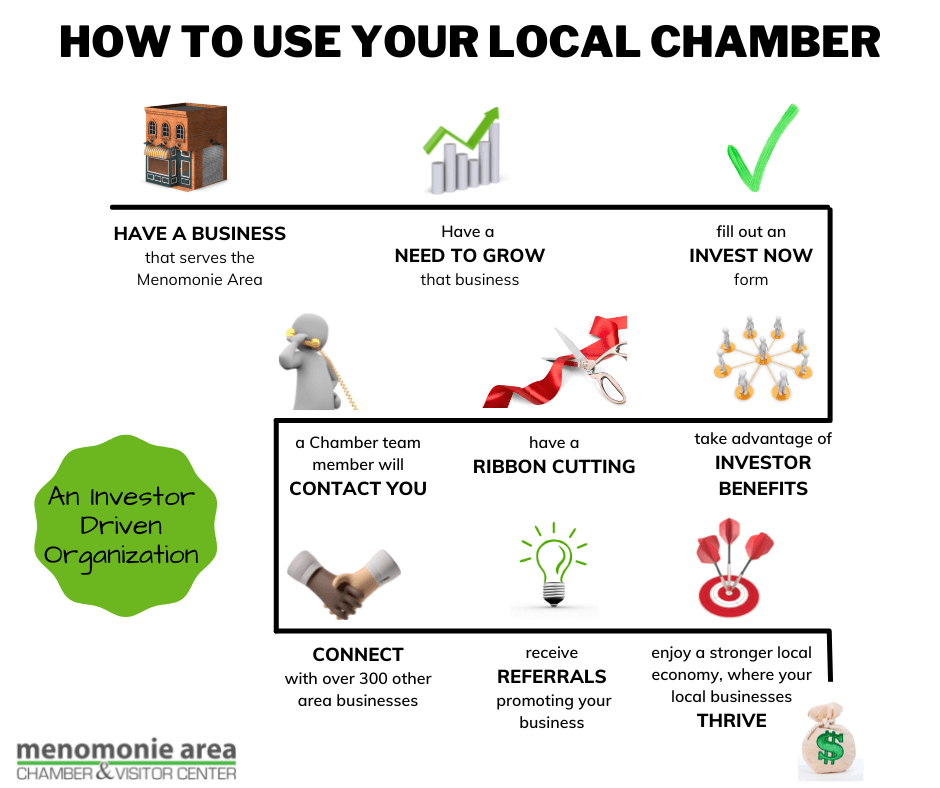 Welcome New Chamber Member Investors
The strength of the Chamber lies in its investors. Collectively, we can accomplish what no one could do individually. If you are seeking exposure, looking for creative ways to reach new customers/market your business, or striving to position your company as a community leader, we have multiple, unique ways to partner with you! We would love to help you find the right opportunities for your business to achieve the goals you have set.
Start growing your peer network and strengthening your business / organization by investing in the Chamber!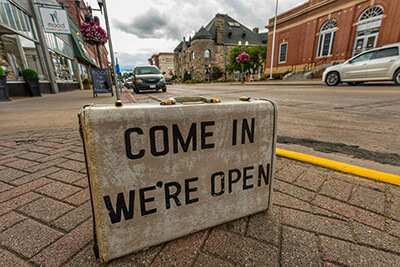 The Chamber consists of Investors from every type of business and organization. Use the Chamber Directory to learn and support these community partners.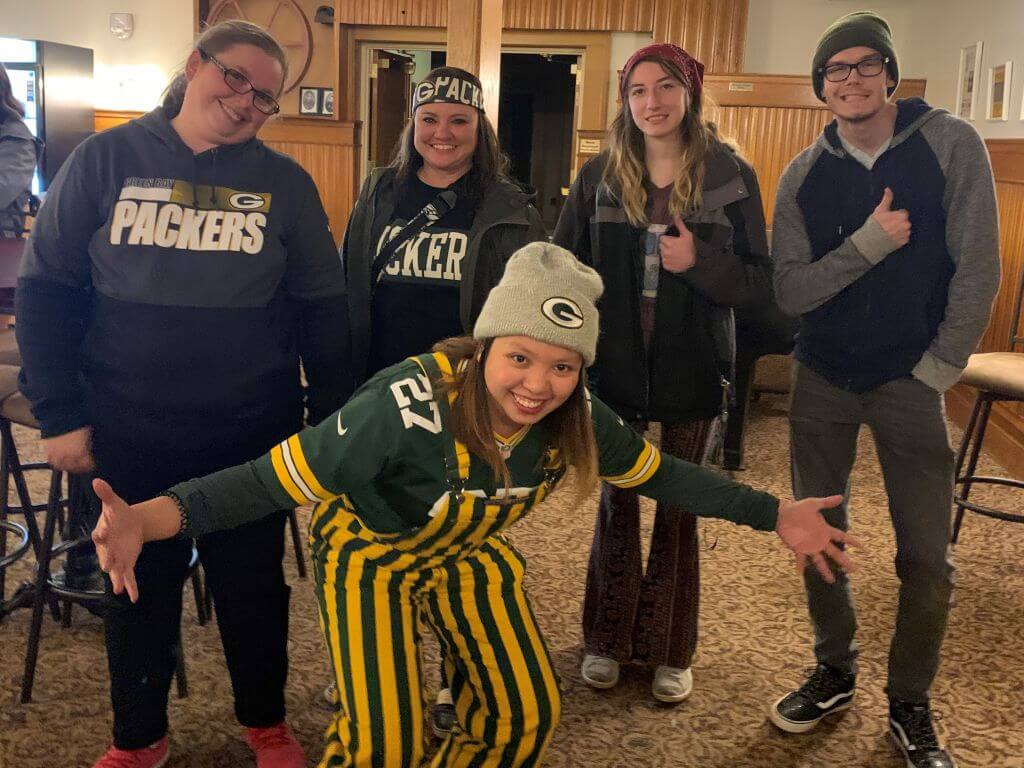 Find Local Business Events
The Chamber offers an array of events to provide the ability for peer development, collaborations, and growth. We look forward to seeing you at the next event!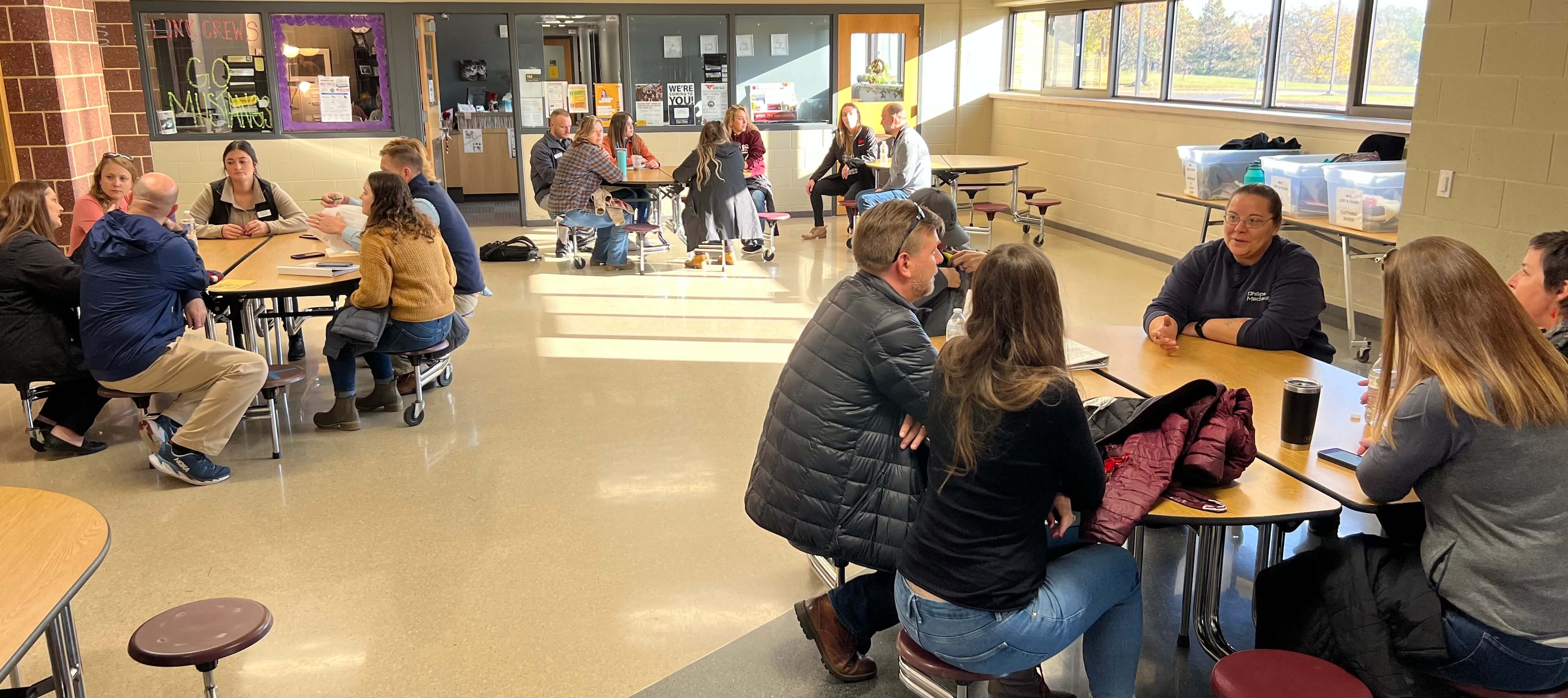 Market Your Business / Organization
Chamber investors get access to brand recognition opportunities through our portfolio of partner and sponsorship opportunities.
Pack value into your Chamber investment and extend your marketing outreach through sponsorship and spotlight branding.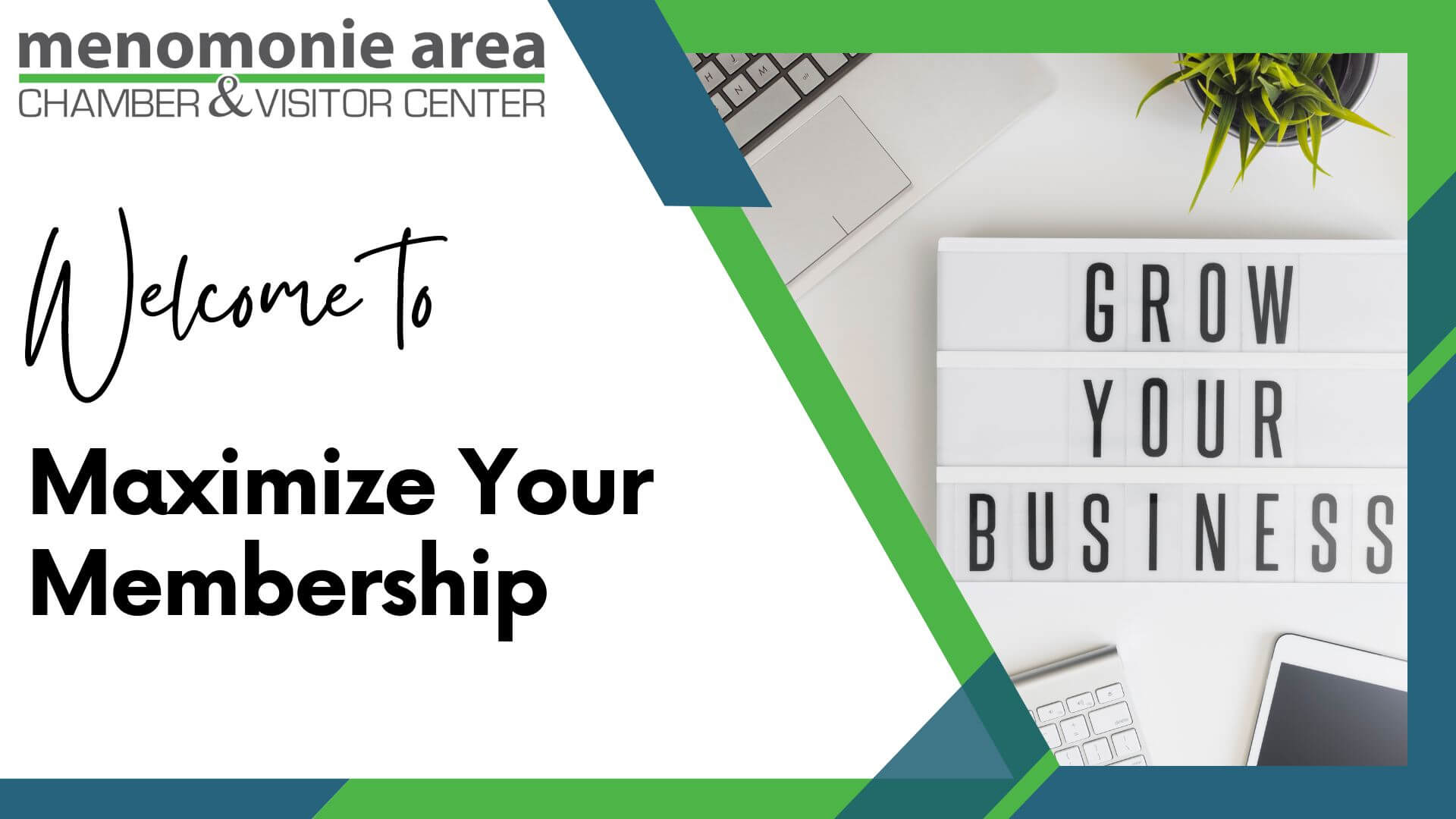 Gain insight into all the Chamber's valuable resources, network with your peers, and get your questions answered.
• Chippewa Valley Rally legislative visits
• Front seat to legislative information and updates
• Local business advocacy to voice our investors' feedback
• Connections and relationships with policymakers
• Organization and facilitation of advocacy events
• Letters of support for specific advocacy issues
MENOMONIECHAMBER.COM
183,221 Page Views
65,397 Search Hits
3,644 Linkouts
@MENOMONIECHAMBER
Instagram Followers: 926
Facebook Followers: 4,512
Individual Business Numbers
Did you know that we collect data on how many website visitors are searching for your business or clicking on your directory listing? Contact [email protected] to learn more about your individual analytics
The above data is from numbers from January - October 2021