Keep the cheer here and celebrate the holiday in your hometown.  The Chamber will be awarding daily Chamber Check winners up to $4,000 prize money starting Black Friday to New Year's Eve!  Chamber Checks can be used at participating Chamber businesses.  If you don't spend the full amount, you receive cash back.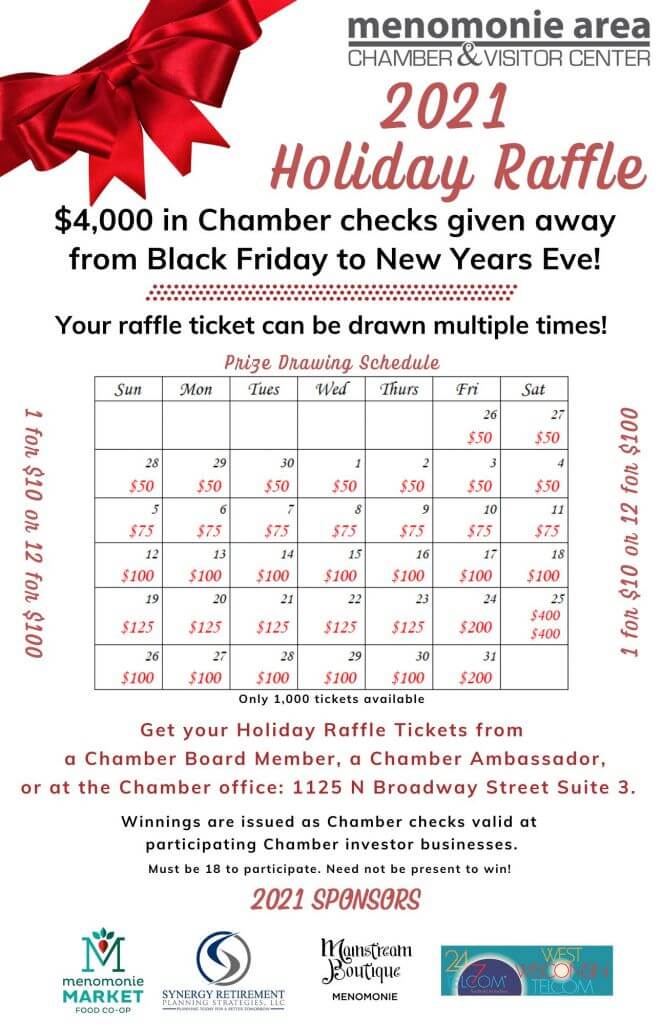 How Can I Purchase Holiday Raffle Tickets?
Tickets can be purchased at the Menomonie Area Chamber & Visitor Center, a Chamber Board of Directors member, an Ambassador, or a sponsor business.  If you're not familiar with who serves in these roles, you can learn more by visiting the Committee page.
Tickets are 1 for $10 or 12 for $100
How Are Winners Selected?
Daily winners are selected randomly by a variety of Chamber volunteers utilizing a large tumbler.  When the winner is drawn and announced, the Chamber team will call the winner to arrange for Chamber Check pick up or mailing.  That winning ticket is then placed back in the tumbler for future drawings.
Where Can I Use Chamber Checks?
Chamber Checks are valid at participating Chamber investor businesses.  A listing of participating businesses can be found here.
The daily winning amounts change from year to year, so please know the schedule will be different in 2022.
How Can My Business Sponsor?
Sponsorship inquiries and commitments can be answered by contacting the Chamber team at [email protected].