$4,000 in Chamber Checks will be awarded from November 24 - December 28! Chamber checks can be used at over 100 participating Chamber businesses. If you don't spend the full Chamber check amount, you receive cash back.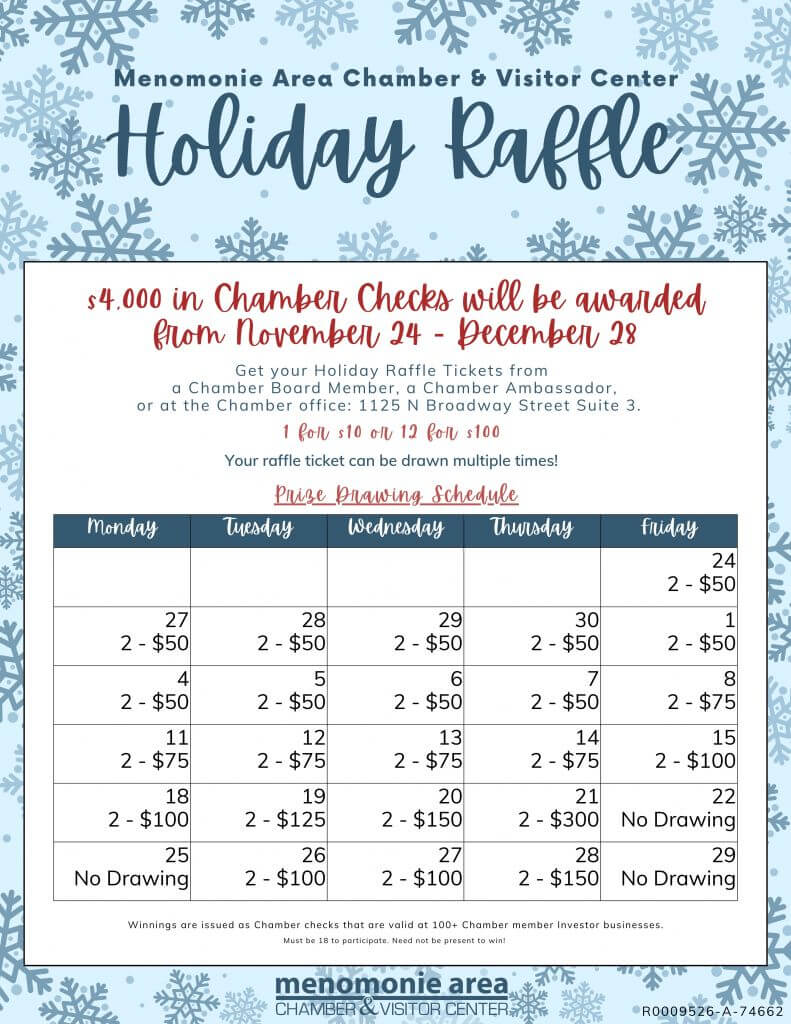 How Can I Purchase Holiday Raffle Tickets?
Tickets can be purchased by individuals that are 18+ at the Menomonie Area Chamber & Visitor Center, a Chamber Board of Directors member, or an Ambassador.  If you're not familiar with who serves in these roles, you can learn more by visiting the Committee page.
Tickets are 1 for $10 or 12 for $100
Where Can I Use Chamber Checks?
Chamber Checks are valid at over 100 participating Chamber Investor businesses.  A listing of participating businesses can be found here.
How Can My Business Sponsor?
Sponsorship inquiries and commitments can be answered by contacting the Chamber team at [email protected].
How Are Winners Selected?
Daily winners are selected randomly by a variety of Chamber volunteers utilizing a large tumbler.  When the winner is drawn and announced, the Chamber team will call the winner to arrange for Chamber check pick up.  That winning raffle ticket is then placed back in the tumbler for future drawings. Need not be present to win.
All drawings will take place on 11/24/23 - 12/28/23 at 10 AM each day listed on the calendar.

Drawings will take place at indicated sponsor locations.

If no indication is next to the date, the drawing will take place at the Menomonie Area Chamber & Visitor Center.

Winners are announced on Chamber's Facebook page & website.

Winners will be contacted by the Chamber

2023 Holiday Raffle Winners
November 24 - 2 $50 Winners
Dan & Kim Gerth
Britta Miller
November 27 - 2 $50 Winners
Ben Kaufman
Rochelle Kroening
November 28 - 2 $50 Winners
Justin Price
Sandy Lindstrom
November 29 - 2 $50 Winners
Brian Wold
Adam Ludwig
November 30 - 2 $50 Winners
Darcy Brown
Janice Kenefick
December 1 - 2 $50 Winners
Rochelle Kroening
Dianna Fiergola
December 4 - 2 $50 Winners
December 5 - 2 $50 Winners
December 6 - 2 $50 Winners
December 7 - 2 $50 Winners
December 8 - 2 $75 Winners
December 11 - 2 $75 Winners
December 12 - 2 $75 Winners
December 13 - 2 $75 Winners
December 14 - 2 $75 Winners
December 15 - 2 $100 Winners
December 18 - 2 $100 Winners
December 19 - 2 $125 Winners
December 20 - 2 $150 Winners
December 21 - 2 $300 Winners
December 26 - 2 $100 Winners
December 27 - 2 $100 Winners
December 28 - 2 $150 Winners