Engage with area business professionals in a social setting to meet and create business relationships.  Learn about local organizations representing a variety of industries.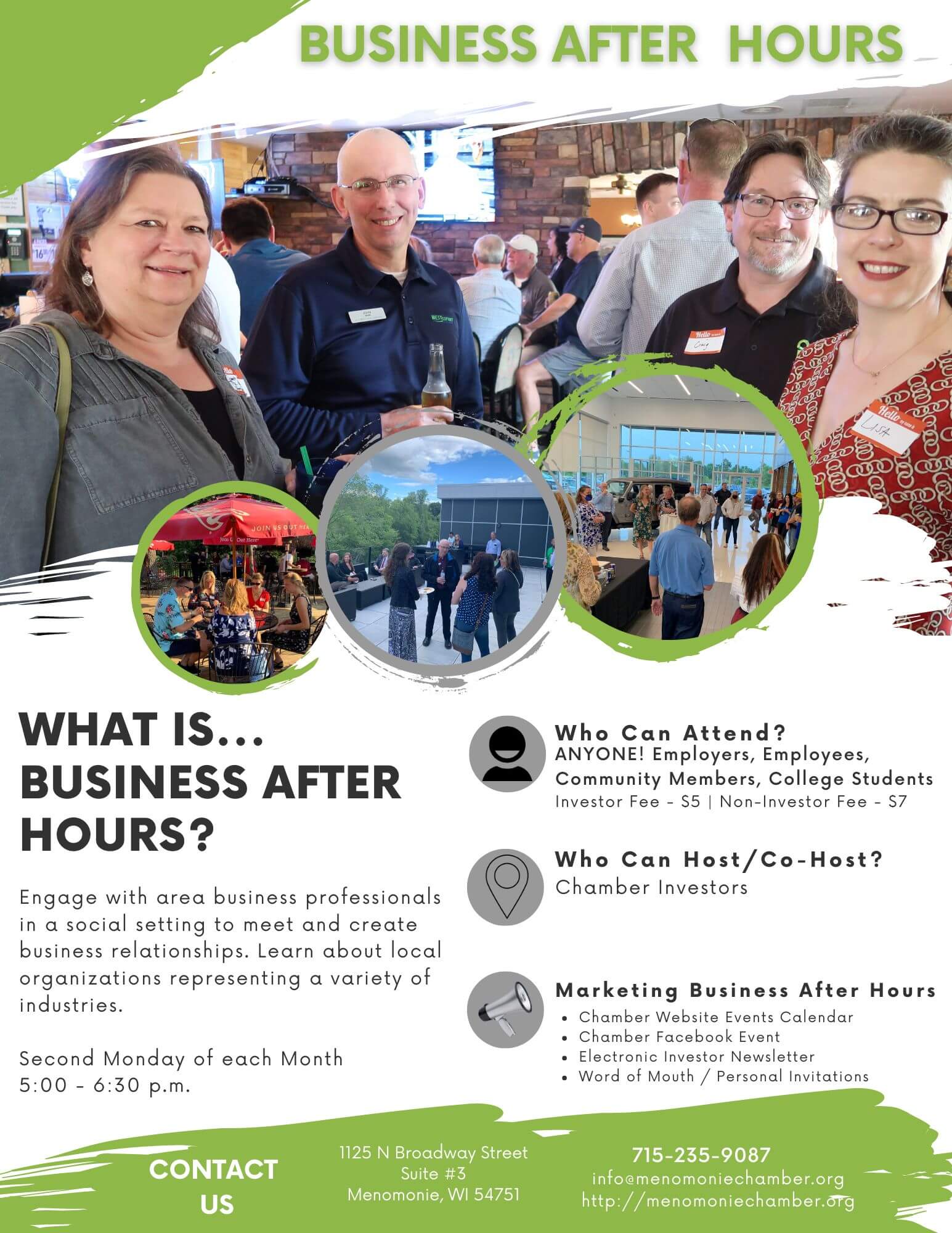 Join us for our monthly networking event at Menomonie area's hottest locations. We ensure that you make the connections you need - and want - to grow your business.  Business After Hours is a casual and fun event where business gets done.
This event is open to both Chamber Investors and the public - but if you work for a Chamber Investor, you receive a discount on your entry fee. If you work for the sponsoring or co-sponsoring business that month, you receive a free entry!
Our monthly networking events where you make connections that grow your business
October 10 - WESTconsin Credit Union, Dunn Energy Cooperative, Menomonie Market Food Co-op, Royal Credit Union, 24-7 & West Wisconsin Telcom, Group Health Cooperative of Eau Claire at Ellsworth Cooperative Creamery - Held at Ellsworth Cooperative Creamery
November 14 - Cedar Corporation and City of Menomonie - Held at City Hall Council Chambers
December 12- Holiday Party - at Markquart Motors Menomonie - Held at Marquart Motors Menomonie
What Should I Bring With Me?
Chamber Investor Business Affiliates $5 | Non Chamber Investors $7
Bring your business cards to be exchanged and door prize opportunities
Participate in the 50/50 raffle (1 ticket for $2 or 3 tickets for $5)
Thank you for your interest in Hosting or Co-Hosting a Business After Hours in 2023!
Please review the sponsor guidelines below and submit an application.
Business After Hours Sponsor Guidelines and Application
If you have additional questions, please contact Melissa at 715-235-9087.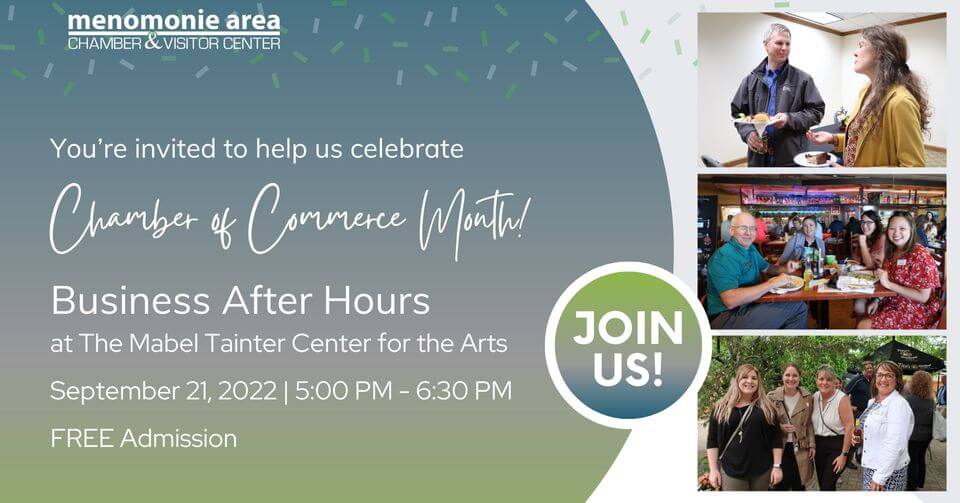 2023 Business After Hours Calendar
January 16, 2023 - RESERVED
May 15, 2023 - Available
September 18, 2023 - RESERVED
February 20, 2023 - Available
June 19, 2023 - Available
October 16, 2023 - RESERVED
March 20, 2023 - Available
July 17, 2023 - Available
November 20, 2023 - Available
April 17, 2023 - RESERVED
August 21, 2023 - Available
December 18, 2023 - Holiday Party